Elements Home Spray - Set of 4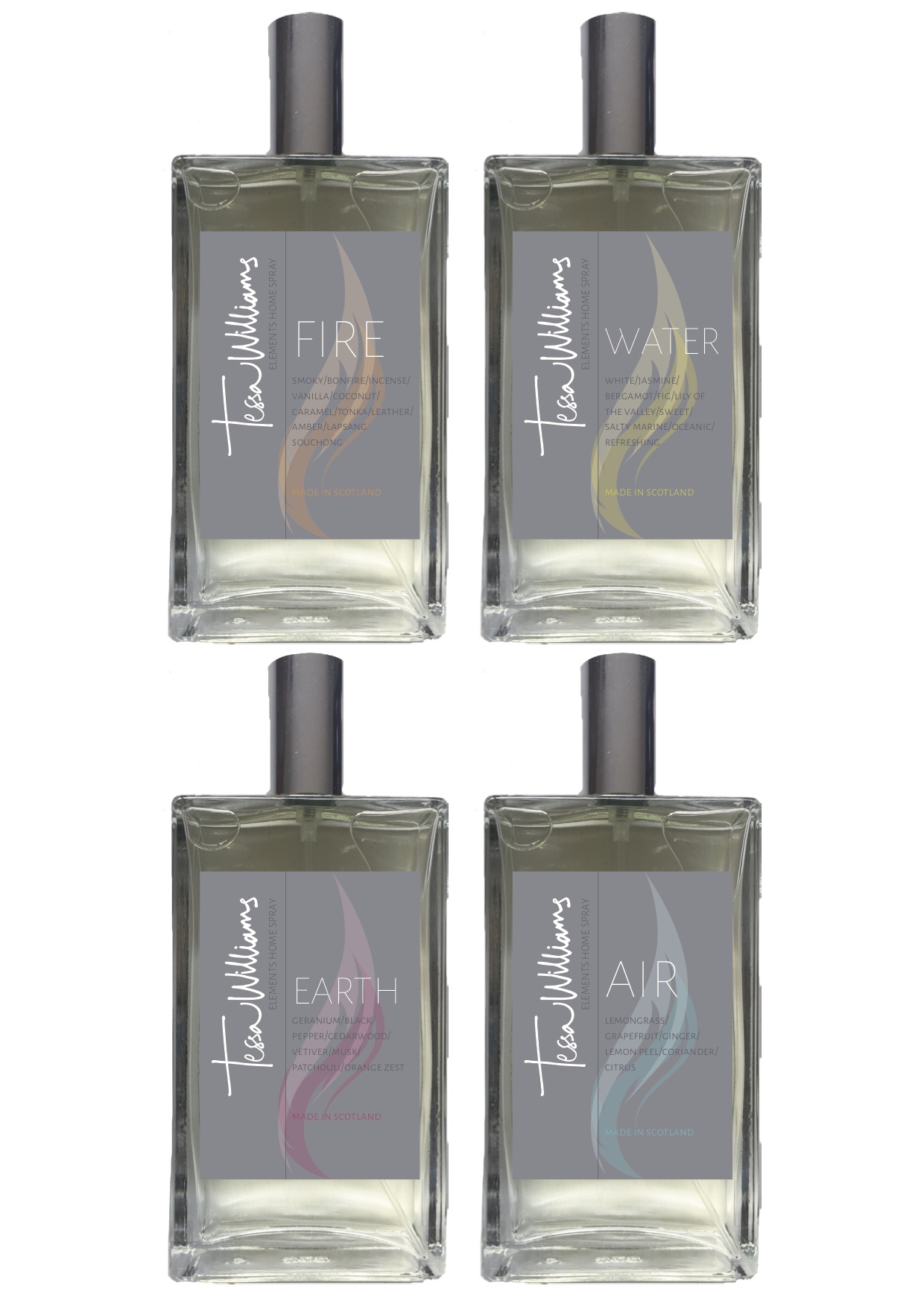 Elements Home Spray - Set of 4
A beautiful set containing all the fragrances of Elements​ - the most perfect gift of all scents. Enigmatic and beguiling these scents are long lasting and retain an elegant and heady air of decadence.
They can be used to accentuate the scent of any candle and makes any room a more welcoming and vibrant place. Use them alone or in a wardrobe or luggage.
​4 x 100 ml bottles

Spray approximately 30cm away from fabric items or curtains

FIRE - Intoxicating fiery aroma that welcomes warmth and comfort, transporting you to an evening in front of the warmth of a glowing fire in a remote log cabin.. This sophisticated, warm, comforting woody amber fragrance releases notes of incense, precious woods combined with patchouli, vetivert, edible notes of coconut, sweet vanilla caramel, lapsang souchongintertwined with soft woods, musk, and tonka infused with hints of aromatic woody smoke. This fragrance will truly be your hearts burning desire.

EARTH - An intensifying aroma that evokes the desire to walk through wood trails, unspoilt beautiful landscapes and over forest land, allowing the feeling of being captivated by a mesmerising earthy scent. A fragrance that starts with rich accords, where zesty top notes of lemon and orange rest alongside bold reviving blends of pepper and geranium, are intensified by a woody trail of patchouli sandalwood, leather followed by notes of cedar wood and vetiver bring this fragrance back to earth with sensual musks.

AIR - A serene refreshing, cool citrus and invigorating aroma that encourages the sense of freedom and peace, transporting you to a fresh tropical island. This mouth-watering, zingy fusion of crushed Jamaican ginger roots with sun drenched cochin lemongrass with a slice of grapefruit is harmonized by a sprinkling of cardamom and Russian coriander seeds is brought to a close with hints of freshly grated lemon peel.

WATER - An invigorating fragrance that is intensified by pure aquatic notes, of the illusion of being captured beneath a natural waterfall in the rain forest. This fresh aquatic accord is a blend of white jasmine with accents of citrus lemon, bergamot & aldehydes, followed by gentle floral notes supported by heart of lily of the valley supported by a background of musk this fragrance will surely transport you into your Element.